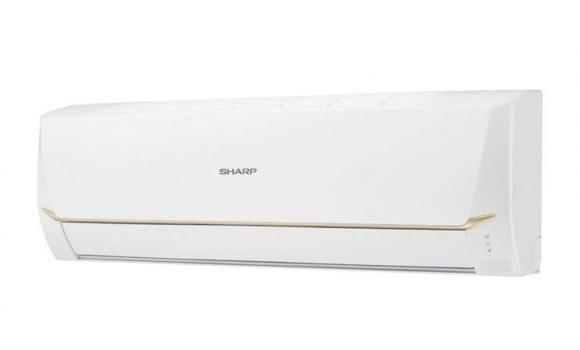 DÒNG TIÊU CHUẨN
1.5HP DÒNG TIÊU CHUẨN AH-A12SEW
Compare
Power 1.5HP
Comfort Mode
Refrigerant R410A
Super Fast Cooling
Energy Saving
WHERE TO BUY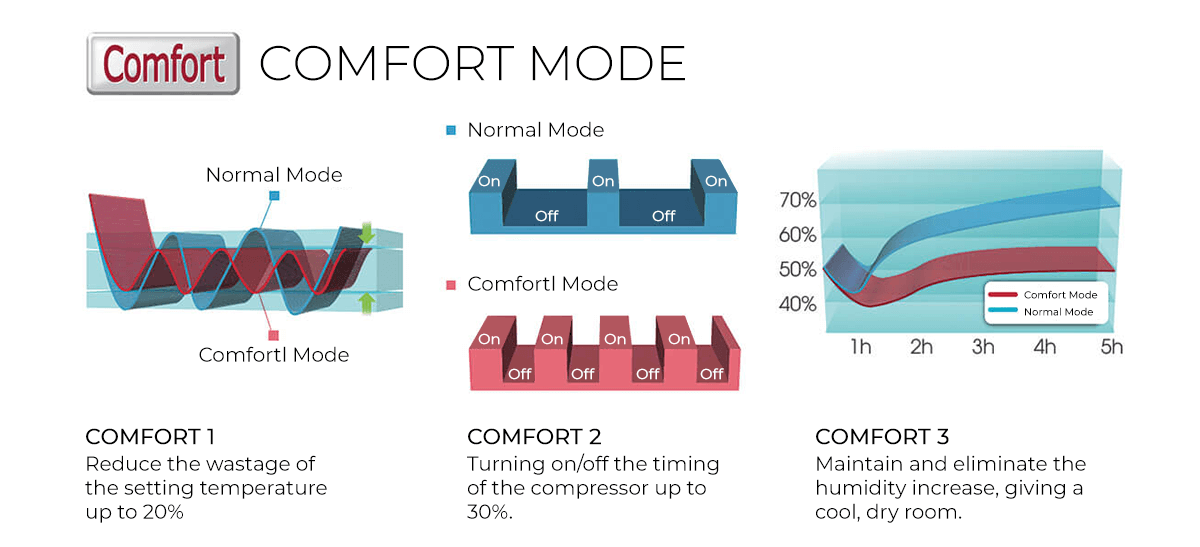 THE COMFORT MODE



Comfort and energy-saving; reduce temperature differences and turning on/off the timing of the compressor. When operating at the Comfort mode at maximum capacity, the air-conditioner quickly operates to reach the setting mode, then maintains the room temperature by turning the compressor on and off continuously to keep the room temperature stable. Reduce the wastage of the setting temperature up to 20% and turning on/off the timing of the compressor up to 30%.
MAINTAIN HUMIDITY

If using the air-conditioner continuously, it can increase the humidity in the room, causing a moist and uncomfortable feeling. The Comfort mode helps maintain and eliminate the humidity increase, giving a cool, dry, and comfortable room.


ENERGY-SAVING

The Comfort ECO air-conditioner can create a cool and comfortable airflow while still reduce significantly electricity consumption, save energy, and friendly with the environment.
---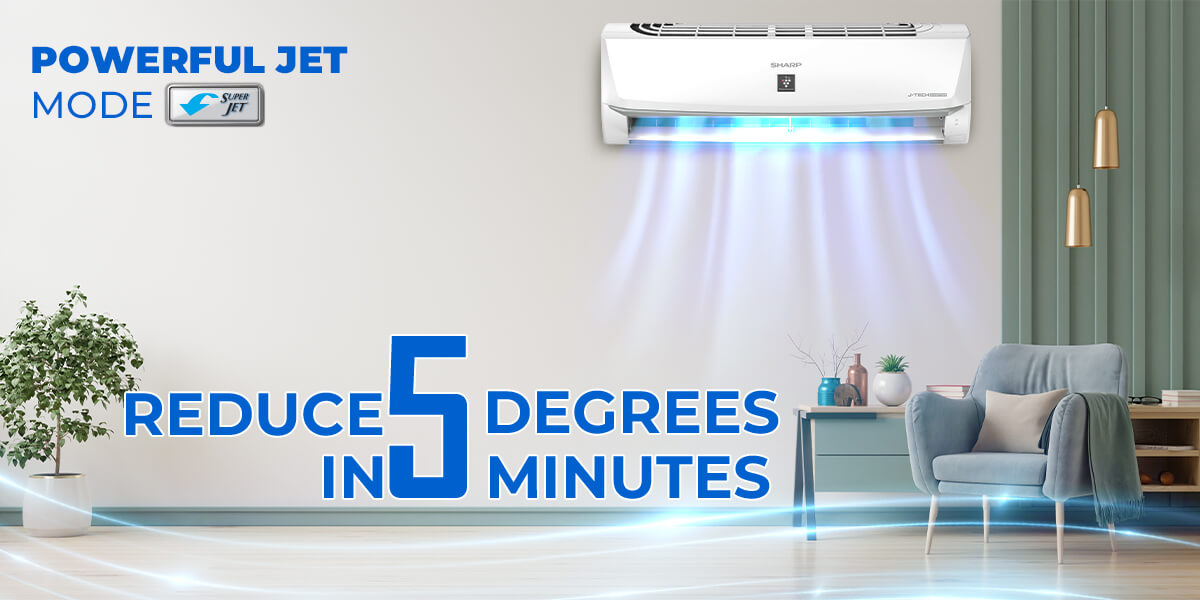 THE POWERFUL JET MODE CREATE STRONG AND DIRECT WIND FOR YOU



Do you want to enjoy the cool fresh air when entering the house?
The Powerful Jet mode creates higher airflow and speed, allowing the room to quickly reach the set temperature. You do not have to wait any longer to relax. The cool and refreshing breeze will give you a pleasant feeling.
---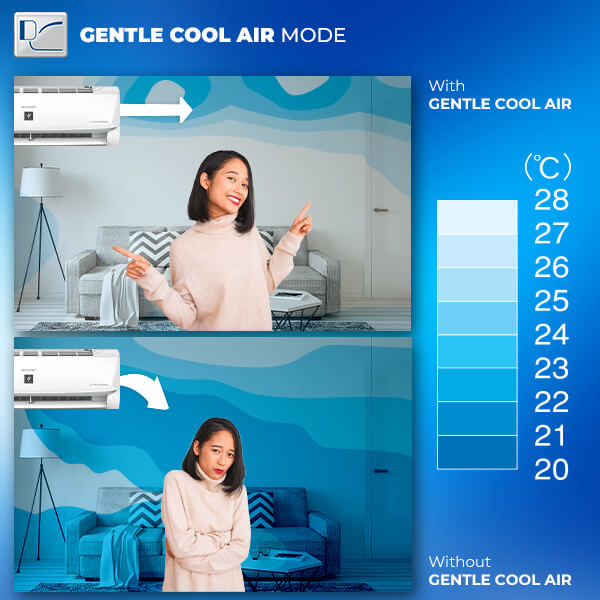 THE GENTLE COOL AIR MODE



The gentle wind for a good sleep. The Gentle Cool Air blows the cold air to the ceiling rather than the ground where the babies, pregnant women, the elderly cannot withstand the cold air. This mode will enable your good sleep when the gentle breeze calms your sleep and will not wake you up in the middle of the night.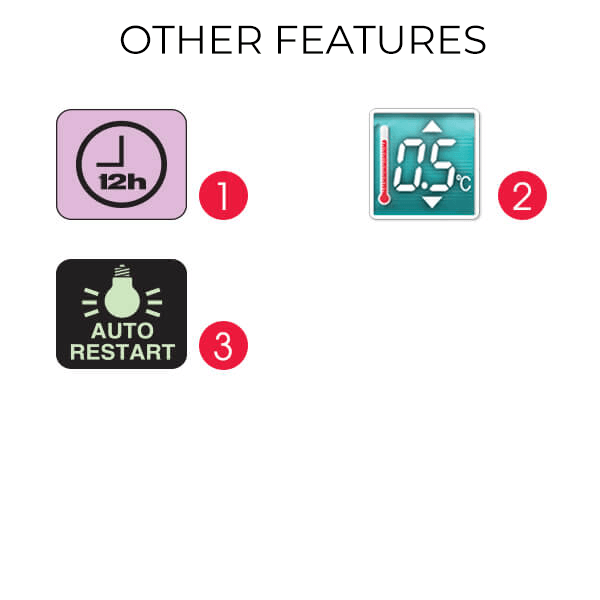 1. 12 HOURS ON/OFF TIMER
2. FLEXIBLE REVERSIBLE WINGS
The vane rotates automatically vertically (Up/Down) making the whole room cool evenly.
3. AUTOMATICALLY RESTART FUNCTION
THÔNG SỐ KỸ THUẬT MÁY LẠNH (-)
Dòng sản phẩm
Tiêu chuẩn
Cấp hiệu suất năng lượng:
4
Nguồn điện (V) của máy lạnh
220 - 240
Hướng gió máy lạnh
Trực tiếp
Quạt
Quạt gió khẩu độ rộng
Chất làm lạnh
R410A
Công suất làm lạnh (BTU/giờ, kw)
11940/3.50
Công suất sưởi ấm (BTU/giờ, kw)
-
Công suất tiêu thụ (làm lạnh/sưởi ấm) (W)
1050/-
Đường kính ống dẫn nước (mm)
16
DÀN LẠNH (-)
Lưu lượng gió (Cực mạnh/Cao/Thấp/Êm dịu) (m3/phút)
-/10.8/9.3/7.6
Độ ồn (Cực mạnh/Cao/Thấp/Êm dịu) (dB)
-/41/36/31
Bộ lọc khí
Lưới polypropylene
Kích thước (rộng/cao/sâu) (mm)
730/540/250
Khối lượng (kg)
25
Màu mặt trước
Trắng
Màu thanh chắn phía trước
Vàng
DÀN NÓNG (-)
Độ ồn (Cao/Thấp/Êm dịu) (dB)
52/-/-
Kích thước (rộng/cao/sâu) (mm)
730/540/250
Khối lượng (kg)
25
Chất liệu dàn tản nhiệt
-
Công nghệ Plasmacluster Ion
-
Công nghệ Inverter-1
-
Chế độ Powerful Jet
Có
Chế độ Super Jet
-
Chế đô Turbo
-
Chế độ Gentle Cool Air
Có
Đảo gió
Có (2 chiều)
Chế độ cảm biến
-
Chế độ hong khô quần áo
-
Chế độ hẹn giờ
Có
Chế độ Best Sleep
-
Chế độ Baby
-
Chế độ Comfort
Có
Chế độ Eco
-
Tự động làm sạch
-
Tự khởi động lại
Có
Cài đặt 0.5 độ C
-
Vận hành ở điện áp thấp 130V
-
Khe hút khí W
-
Thiết kế cánh quạt dựa trên yếu tố tự nhiên
-
Heat Pump
-